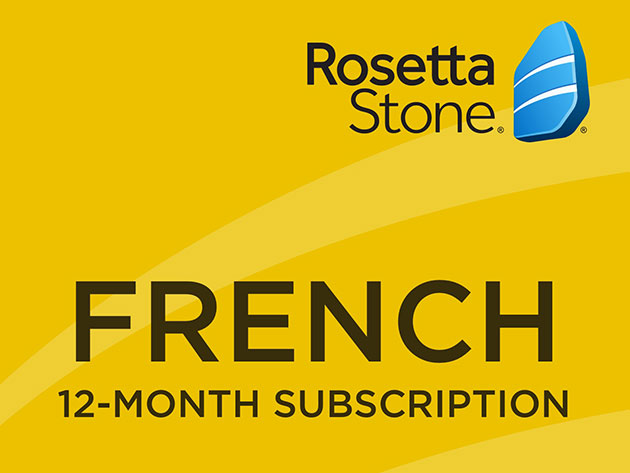 Rosetta Stone: 12-Month Subscription (French)
by Rosetta Stone
Master a New Language with the Critically-Acclaimed Software CNN Calls "The Gold Standard"
Description
If your dream is to master a foreign language, there's no better teacher than Rosetta Stone. With its intuitive, immersive method, Rosetta Stone will have you reading, writing, and speaking like a natural in no time. You'll start by matching words with images just like when you learned your native language as a child. Then you'll move onto interactive lessons where speech recognition technology works to evaluate and improve your accent with instant feedback. The reviews don't lie, Rosetta Stone is the best way to master a second, third, or fourth language from home.
Learn French w/ the award-winning interactive software & proprietary speech-recognition technology that analyzes the words you say 100 times per second
Get help from TruAccent™, the world's best speech recognition technology
Develop your command of the language--read, write, speak & understand
Learn basic conversational skills like shopping, ordering, taking a taxi, etc.
Move onto intermediate language skills like sharing opinions & discussing pop culture
Use the advanced speech engine to compare your accent to native speakers
Reviews
PC Magazine Editors' Choice Award: Best Language-Learning Software, 5 Years In a Row
Wall Street Journal: "Rosetta Stone... may be the next best thing to living in a country."
Specs
System Requirements
Windows 2000 or later
Mac OS X 10.4.11 or later
1 GHz or faster CPU
512 MB RAM
600 MB free hard-drive space (per level)
Internet or phone connection for activation
Important Details
Language: French
Redemption: must redeem within 30 days of purchase
Length of access: 12 months
About the Developer
Rosetta Stone Inc. (NYSE: RST) is dedicated to changing people's lives through the power of language and literacy education. The company's innovative digital solutions drive positive learning outcomes for the inspired learner at home or in schools and workplaces around the world.
Founded in 1992, Rosetta Stone's language division uses cloud-based solutions to help all types of learners read, write, and speak more than 30 languages. Lexia Learning, Rosetta Stone's literacy education division, was founded more than 30 years ago and is a leader in the literacy education space. Today, Lexia helps students build fundamental reading skills through its rigorously researched, independently evaluated, and widely respected instruction and assessment programs.
For more information, visit www.rosettastone.com. "Rosetta Stone" is a registered trademark or trademark of Rosetta Stone Ltd. in the United States and other countries.
Terms
Instant digital redemption